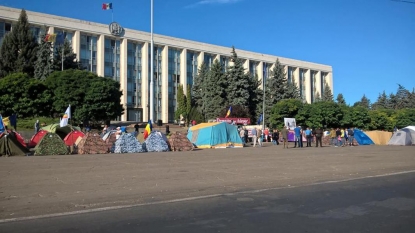 Opinia CReDO Şedinţa Cabinetului de Miniştri din 17.02.2016[EN]
Opinia CReDO Şedinţa Cabinetului de Miniştri din 17.02.2016[RO]
Opinia CReDO Şedinţa Cabinetului de Miniştri din 17.02.2016[RU]

CReDO opinion Cabinet meeting of 17.02.2016
Experts of the Resource Center for Human Rights (CReDO) approve of the draft law on the National Intelligence Service, but suggest a series of proposals for improving it. According to them, the bill, which is to be discussed in the February 17 meeting of the Cabinet, gives the Service powers that are also held by other specialized public bodies.

CReDO director Sergiu Ostaf, in a news conference at IPN, said the doubling of powers can lead to the inefficiency of these bodies. The inefficient division of powers can also generate a struggle for power between institutions. The National Intelligence Service should focus on areas related to the national security, such as violence and territorial integrity, violence and constitutional order, usurpation of the state power, military actions against the state, espionage, treason, attempts to find state secrets and organized transfrontier crime.

The experts consider the director of the National Intelligence Service should be elected at the suggestion not of the head of state, as it is provided in the bill, but of the Supreme Security Council. According to Sergiu Ostaf, such an amendment is needed because the head of state can be subject to political influence.

The provision concerning the length of the term in office of the Service's director should also be modified so that this is elected for a period of seven years, without having the right to apply for a second term. The longer term makes the post stable and does not create stimuli for political compliance for asking for the second term.

The experts underlined the necessity of making changes to the bill to amend and supplement the Contravention Code. One of the amendments introduces penalty for the non-submission of the statement to notify of a meeting. CReDO projects coordinator Olga Batca, who headed the Anticorruption Alliance, said the bill should be amended so that the organizer of the meeting is held accountable only when this acts premeditatedly and repeatedly ignores the obligation to notify the authorities.

CReDO also supports the amendments and supplements on privatization that were included in the agenda of the Cabinet's meeting. In this connection, the experts recommend immediately creating an electronic platform to monitor the privatization of each facility apart, meeting the minimum transparency requirements in the privatization process and publishing feasibility studies for the assets that are to be privatized on the electronic platform.
Excerpt from the opinion:
In OZ sunt incluse 35 de chestiuni. Din care:
8 chestiuni se refera la implementarea Programului de guvernare,
2 chestiuni se regasesc in Strategia de reformare a justitiei (nr.2,nr.3),
21 de chestiuni sunt in examinare in procedura de Avizare a proiectelor de lege la initiativele deputatilor ce implica un grad mai jos de tranparenta,
nici o chestiune nu se refera la promovarea libertatilor antreprenoriale, eliminarea contringerilor antreprenoriale,
nici o chestiune nu se refera la promovarea reformelor sectorului financiar-bancar, sectorul energetic.