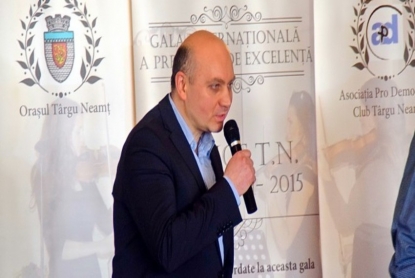 Sergiu Ostaf was honored for promoting democracy and human rights
Executive Director of the Resource Center for Human Rights, Sergiu Ostaf, has won a prize at the International Gala of Excellence T. N. DEMOS ! Sergiu Ostaf took the award for DEMOCRACY.
Sergiu Ostaf a fost premiat pentru promovarea democratiei si a drepturilor omului în Republica Moldova. Seful executiv al CReDO a multumit organizatorilor si a declarat în cadrul evenimentului ca Republica Moldova se afla la etapa în care drepturile omului mai continua sa fie incalcate. Un caz aparte il constituie drepturile omului din partea stanga a Nistrului.

A sasea editie a Galei Internationale a Premiilor de Excelenta DEMOS TN, desfasurata de Asociatia Pro Democratia, simbata, 2 aprilie, la Targu NeamT, a premiat excelenta din administratia publica, educatie, cultura, sport, implicare civica, spiritualitate si romanism, mass-media, democratie si mediul de afaceri.
Castigatorii:
Cultura – Alex Stefanescu
Educatie – George Cristian Potrivitu Bocanet
Sport – HCM Roman
Administratie – Valentin Vrabie, primarul comunei Pestera (Constanta)
ONG – Fundatia Mihai Eminescu Trust
Mass Media – Cornelia Cozonac (Centrul de Investigatii Jurnalistice Chisinau)
Antreprenoriat – All Cio Invest Iasi
Democratie – Sergiu Ostaf (CREDO Chisinau)
Spiritualitate si Romanism – Constantin Necula si Inna Negrescu Babus.
Omul anului a fost declarat academicianul Nicolae Zamfir, iar premiul pentru intreaga activitate a fost acordat profesorului Ioan Danila.